Creating Wealth With Mutual Funds
-Varun Gurnani
Being an aggressive investor is not necessary to create wealth with mutual funds for your mid-term and long-term goals – (Anonymous)
Mutual Funds (MFs) provide a safe and easy option in creating wealth. An MF is financial product that pools money from different individuals and invests it on their behalf into various assets, such as equity, debt, gold etc. According to the risk appetite and financial goal of the investor there are several schemes to choose from. Key Features of MFs are simplicity, affordability, professional management, diversification and liquidity. In the situation of whole country lockdown, Mutual Funds were only asset class to provide liquidity whereas banks, post office, insurance companies were not operating. Also, unlike several other financial products, MFs offer the freedom of not having to invest on a continuous basis in a situation of no cash flow. This means that the invested amount will have the potential to grow till one decides to liquidate it.
Power of Compounding
It is the 8 th wonder of the world said by Albert Einstein. It's like the more our money gets to grow, the more you gain. An early start with even a small amount helps build a size-able corpus. The rule is to invest regularly and keep investing the returns. As a result, the returns will also participate in getting more returns.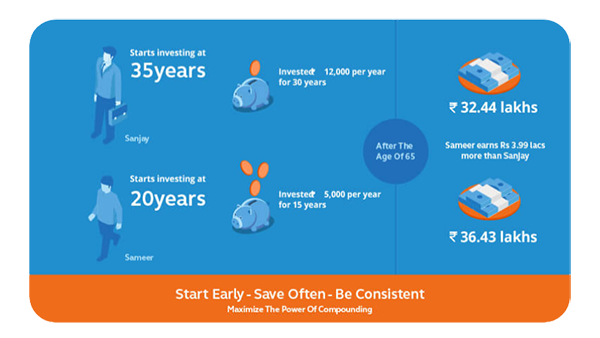 Life Cycle Financial Planning
The 20's investor
If you start investing as soon as you get your first income, it would be easier as you will have fewer responsibilities and can afford to take risk. Equity funds could be given higher preference at this stage.
The 30's investor
As you move up the ladder – you tend to more or less settled down in life with a higher pay package, with more dependants – as you are married and have children and parents to support. Hence your financial responsibilities increase and you need to plan for house, funding children's education and own retirement needs. Equity and Balanced funds could be more suitable in this phase of life cycle.
The 40's investor
Expenses tend to peak in this stage of life. You'll have some dreams to fulfil like a premium car, big house, a dream travel trip etc and responsibilities like child education, child marriage, retirement planning etc. Therefore, you need to contain risk. But while doing so, ensure your retirement corpus grows substantially too with inflation-beating returns. In such situations, balanced to Debt funds can emerge as popular choice.
The 50's investor
By this stage of life either most big-money financial goals are met or are on the verge to close on them. Whatever the case may be, this is the time to give top priority to secure your retirement by ensuring the safety of capital by asset class. Debt fund now is the most prudent choice with small % of equity.